The Plenty vaporizer was the first ever to bridge the gap between portable units and desktop devices. This vape is completely unique and revolutionary in both its design and function. Currently, it is one of the only handheld desktop units available in the industry. With the trusted name of Storz & Bickel behind it, the Plenty has remained a popular choice for vape enthusiasts looking for near perfect vapor quality with some portability. The following article will give you our take on the Plenty, this unit is awesome but there are several factors you should consider prior to purchasing.
Vapor Quality
There are many adjectives that can be used to describe the vapor quality of the Plenty. Some of these descriptor words include delicious, dense, smooth, cool, tasty, potent and powerful. We could go on and on, but you get the idea. It's important to remember that the Plenty vaporizer was produced by Storz & Bickel. This is the same brand that designed the Volcano, which is indisputably the best desktop vaporizer ever made. The Plenty was crafted with the same love, and boasts a purely convection heating system with a double-helix heat exchange.
This heat delivery system combined with premium stainless-steel cooling coil allows for smooth inhalations and maximum flavor transmission. Even if you have the temperature cranked up to the highest point, you will find the clouds are dense and milky, but never harsh. To sum it up, the Plenty kills it when it comes to vapor quality.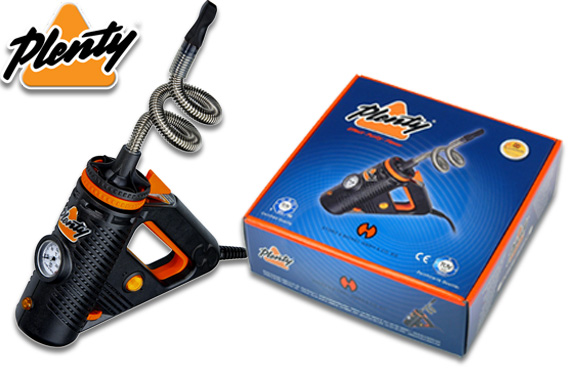 Portability / Build
The Plenty has one of the most indescribable builds that we've ever seen. It's truly the type of unit that you have to see for yourself! The best comparison is that it looks akin to a power tool. The unit is constructed from medical grade materials and is high quality like all Storz & Bickel products. It comes in black and orange which gives it a stylish vibe, and there are two main pieces. The base is the actual hand-held heating system which must be plugged into a wall outlet in order to function. The base features a temperature display, an orange lamp that lights up while heating, a power button, and an auto off release grip which will tell the unit to heat.
The other main piece is actually comprised of several tiny items which include the large bowl, the attachment piece, and then a cork-crew cooling coil which leads up to a mouthpiece. Each piece must be put together correctly for the unit to work, and it's recommended you take a look through the manual.
In terms of portability, the Plenty is pretty maneuverable for a desktop unit. This device is wonderful for joint sessions as it is easy to pass around, but you will need to keep the party near a wall outlet. It has no batteries so it must be plugged in at all times in order to work. You should note that this device cannot be classified as a truly 'portable' vaporizer for this same reason. Do not plan on using it in a car, or while on the go, you will need an entirely different device to meet those needs, such as the Crafty.
Batteries
We hate to repeat ourselves, but it's better to be safe than sorry! The Plenty does NOT have batteries. It is a HANDHELD desktop unit which means that it requires an electrical wall-socket for operation.
Temperature Control
The Plenty has a distinct temperature control system which is operated via a gauge ranging from one to seven. This wheel system allows you to find your ideal temperature in the range of 266 degrees to 396 degrees Fahrenheit. You can get the unit up to a max of 410 degrees Fahrenheit if you pack the bowl tightly enough with a fine grind, and number seven is selected on the wheel. We found the herb to be the tastiest and smoothest at a temperature of 390 degrees flat.
To conclude this section, the Plenty offers great flexibility for temperature selection but obviously is not as exact as units that come with precision digital temperature control such as the digital Volcano.
Heat Up Time
The Plenty is supposed to reach a temperature between 360 to 375 degrees Fahrenheit (think five or six dialed in on the wheel) in approximately three minutes. We found that it takes more like four or five minutes to truly heat. It's hard to be patient, but the wait is worth it because once it reaches temperature, the Plenty does a great job staying there.
Also, remember this unit runs from a wall outlet so sessions can be as long as you like. You may have to repack your oven around the twenty minute mark, but oven conservation of the herb is great due to the use of convection heating.
Price
Most online retail stores currently list the Plenty for sale at the price of $249. This places the unit firmly in the premium category and if you are on a tight budget, you may be out of the luck. The thing is Storz & Bickel uses medical grade materials, innovative heating technology, and superior construction which means the device itself is costly to create.
The Plenty is priced perfectly given its wonderful cloud quality, unique handheld design, and complete temperature control. Additionally, the excellent oven efficiency also leads to long-term savings. If you can afford it, our recommendation is to get it!
Ease of Use
Learning to operate the Plenty is like learning how to ride a bicycle; initially it's a tricky process but once you get the grasp of how it works, you'll never forget! We definitely suggest that first time users read through the manual, and take a look at the diagram 'set-up' sheet. Storz & Bickel was smart and included this pictogram guide on how to put all the pieces together, and while it takes a minute or two to read, it will ultimately save you time.
The Plenty is a relatively easy unit to use after you master the learning curve, but it cannot be described as intuitive since it takes a bit to get acclimated.
Cleaning / Maintenance
The Plenty requires cleaning and maintenance just like every other desktop device. You will need to wait after the machine has been turned off and is fully cooled before initiating this process. In order to clean, you will have to full disassemble the unit.
The cooling coil, mouthpiece, and individual parts of the filling chamber will all have to be cleansed regularly, and the instructional booklet suggests the manual cleaning of these items with 90% alcohol, or dish-washing soap. You should also keep in mind the alcohol is flammable and make sure all parts have been rinsed with water and are dry prior to use again.
Who's it best for?
The Plenty vaporizer would be a fantastic addition to anyone's collection; however, there are certain people that should particularly consider buying it. If you love high-quality, potent clouds and enjoy vaping at home, this is the unit for you. If you're a social user, and host joint sessions, then the Plenty is for you. The unique and convenient hand-held design of this device truly makes it appealing for social settings. Lastly, if you're a vape connoisseur and only want the best of the best, the Plenty will be for you. As an vape enthusiast knows, Storz & Bickel always delivers.
Who's it not for?
The Plenty cannot take the place of an actual portable vaporizer. If you plan on using discreetly anywhere out in public or while on the move, you will require a different device such as the Crafty.