The Air Max Vaporizer by Arizer is the latest in the esteemed lineup of revolutionary dry herb vaping products they continue to bring to life. It offering users an impressive and powerful vaping experience while fitting in a size that still allows portability. The Air Max's features have left its users astounded and has resulted in making it a popular choice for those seeking quality & performance.
Reputation
Reputation: Arizer is a renowned brand in the herbal vape manufacturing industry and been around longer than almost anyone else. They are highly regarded for precision engineering and attention to detail. The Arizer Air Max lives up to its reputation, making it an excellent choice for those seeking luxury and reliability in their overall experience. This is a company that continually listens to its customers and ensures that every product they produce ends up delivering an outstanding experience.
Guarantee
Guarantee: Arizer confidently offers a two-year warranty on the Air Max for its users. The warranty ensures hassle-free repairs and servicing (with service centers available for convenience.) Arizer's commitment to their warranty policy is well-received by the vaping community...their repairs are quick and they stand by their terms.
Prep Time
Prep Time: The Arizer Air Max vape is user-friendly and requires minimal preparation. When you receive your device, first start by charging the battery which takes less than two hours. The assembly process is also quick and straightforward, thanks to the limited number of components. Filling the chamber is simple – just insert your grinded up dry herb through the wide fill hole. The Air Max ensures that overall prep time is incredibly reasonable.
Power Supply
Power Supply: The Air Max is equipped with a powerful battery that allows for up to 90 minutes of continuous use – a remarkable feat for a portable vaporizer. This unit also features USB-C charging for faster and more convenient charging which helps ensure your battery will last when you're out and about.
Temperature

Control
Temperature Control: The Arizer Air Max offers a wide range of temperature settings and allows users to fine-tune their vaping experience. With an impressive temperature range of 122°F to 428°F (50°C to 220°C), the Air Max caters to both low-temp and high-temp vaping preferences. Its precise temperature control ensures optimal vapor production and flavor delivery, consistently providing an unparalleled experience.
Ease of Use
Ease of Use: The Arizer Air Max is designed with simplicity in mind, although it may be a bit better suited towards advanced users in our opinion. The device features a single-button interface for easy operation, and its LED display shows your current temperature setting at a glance. The Air Max's loading system is also user-friendly, allowing for quick and easy filling and cleaning. This vaporizer is truly amazing once you have full mastery of it.
Vapor Quality
Vapor Quality: Arizer's commitment to quality is evident in the Air Max's vapor production. The device utilizes a hybrid heating system that combines both convection and conduction heating methods. It effectively maintains even heating and efficient extraction of your favorite dry herbs. This enables it to produce smooth, flavorful vapor until your material is finished. This capability is by far one of our teams reasons to like it, we're all in complete agreement on that.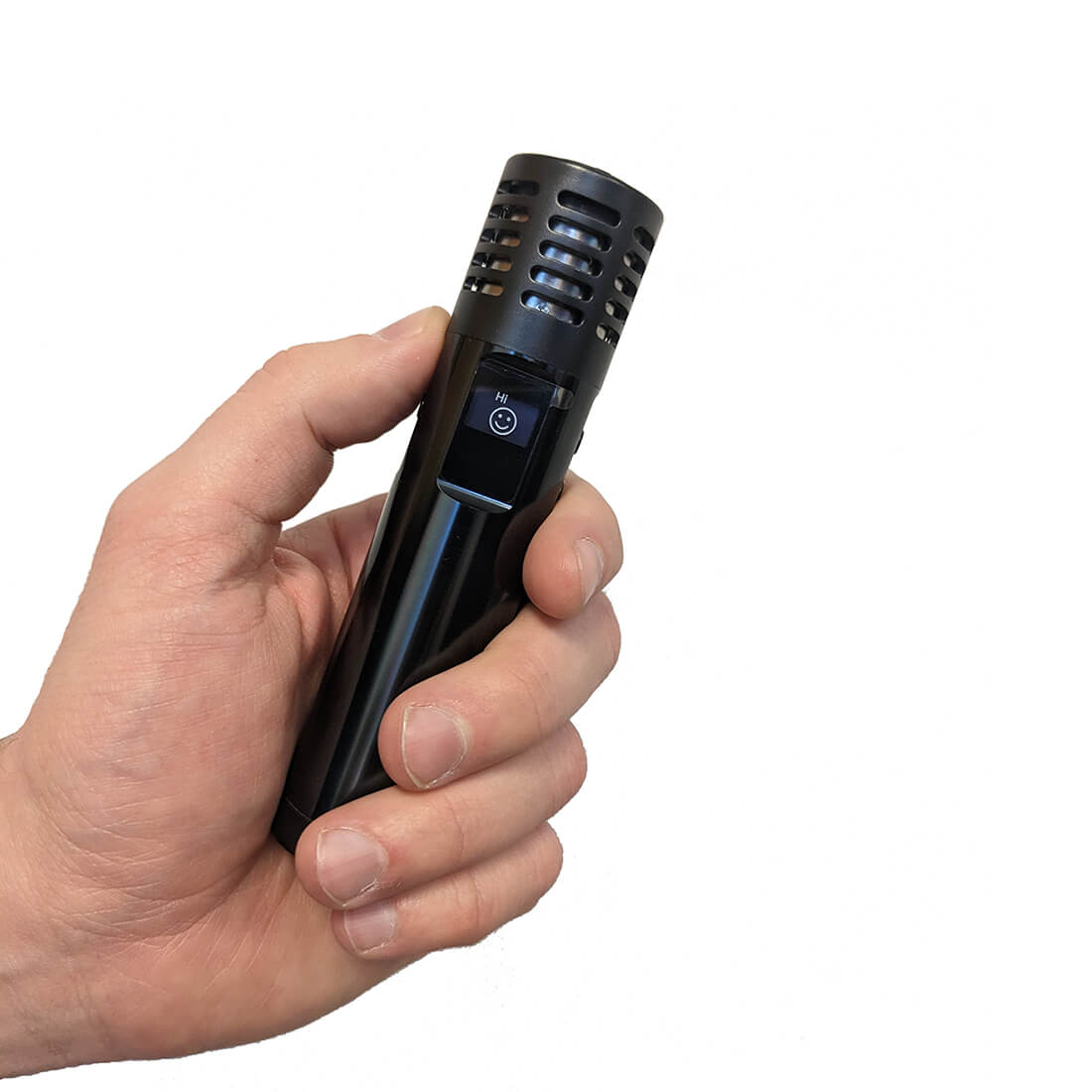 Price
The Arizer Air Max is priced to compete in the high-end category of vapes - reflecting its awesome quality and performance. The unit typically retails for around $319, making it an investment for those seeking appropriate for those who are sure of their exact needs. The Air Max's performance, advanced capabilities, and durability make it a justifiable buy in our opinion.
Portability/Size
The Arizer Air Max is designed with portability in mind with it being the most slim and compact version from Arizer so far. The device measures 4.88 inches (124mm) in height, 1.13 inches (29mm) in width, and 1.13 inches (29mm) in depth, making it easy to carry. Its slim and sleek design allows it to fit comfortably in your hand, pocket, bag, etc. making it an ideal choice for on-the-go vaping. However, it's worth noting that the glass dishes/tubes that stick out when connected may affect its discreetness. Additionally the two-step process of reloading the glass dish bowl with dry herb material while in public may not be the most discreet option for some users in our opinion. Despite these factors, the Air Max doesn't compromise on performance and remains very impressive for its size.
Pros & Cons
Pros:
High-quality vapor production with a hybrid heating system
Wide temperature range for customized vaping preferences
Compact and portable design for on-the-go use
User-friendly interface with single-button operation
Competitive pricing for a high-quality portable vaporizer
Durable construction and materials for longevity
Fast heat-up time for quick sessions
Cons:
Shorter battery life compared to some competitors
Smaller herb chamber capacity may require more frequent refills
No smartphone app for additional control or customization
Who's This Device Best For?
The Arizer Air Max is often considered a "luxury portable vape" that justifies its higher price tag. While it may be one of the more pricey options on the market, it certainly delivers with unrivaled performance. Both novice and experienced users alike appreciate its smooth vapor production, efficiency, and precise temperature settings.
This newest option from Arizer is an excellent option for those of you who want a top of the line hand-held vape that will pay for itself as a long-term investment. Although it comes with a higher price tag, the Air Max undoubtedly offers top-notch performance and utmost quality.